Our team of talented Birmingham Magento developers have a wealth of experience and are capable of carrying out Magento developments of the highest standards. Our aim is to achieve 100% satisfaction.
Magento development agency in Birmingham
Years of web design & development experience
Page 1 ranking keywords on Google, Yahoo or Bing
Customers reported noticeable business improvements
Customers would use us again
Value for money

90%

90%

Noticeable business improvements

90%

90%

Happy with timescales

90%

90%

Would you use us again?

90%

90%

Overall level of service (80%)

80%

80%
Full Service Digital Agency
Forward Thinking & Pro-Active
Experienced Magento Developers
Excellent Customer Support
Magento is the world's most popular ecommerce platform
With a 40% market share (as of August 2014). The powerful open source platform is the number one choice of emerging ecommerce businesses, as well as established global players like Nike, Samsung and Nestle Nespresso. One of the main advantages of using Magento is that it's fully customisable. As a piece of open source software, it gives users the opportunity to extend it to their hearts content. There are already thousands of Magento themes and extensions available but if you are looking for something a little more special, you'll need to work with an experienced Magento developer. Got a Magento development idea? Share it with us and we will make it a reality.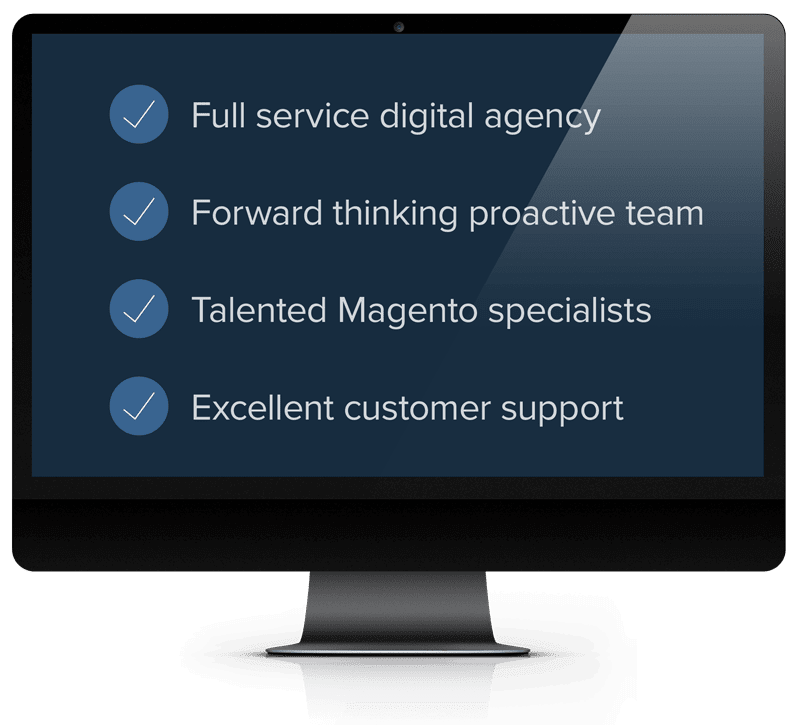 Our Magento expertise
Magento's one of the most user-friendly platforms out there but extending it requires expertise. Luckily for you, our web developers have 5+ years experience working with both Magento Community Edition and Magento Enterprise. They know all of the ins and outs of the platforms and can deliver custom extensions to meet your needs. Collectively, our team of Magento developers can cover all aspects of your business needs including:
Basic store set up and configuration
PSD to Magento theme
Custom Magento modules
Third party API integrations
And much, much more!
We can also help you tackle common problems with Magento, such as slow performance. Our team of experienced Magento developers have the knowledge of how to fine tune and optimise Magento websites in order to speed them up. With our help, you'll see improvements in your sites rankings, user experience and sales in no time!
Magento integrations
One of the great things about Magento is that it can be integrated with other third party tools and applications in order to provide a comprehensive ecommerce solution. Whether you're looking to integrate it with CRM software, payment gateways, email marketing tools or social media, our experienced Magento developers are here to help. Over the years we have carried out a vast number of custom integrations; we are there very confident that we can create a seamless integration for your business. Our team is capable of developing ecommerce integrations of all complexities and are always on the look out for a new challenge. Get in touch with your request and we'll see what we can do!
Custom module development
One of our most popular Magento development services involves creating custom Magento modules. These are essentially bespoke plugins, used to extend the Magento platform. Whilst there are already plenty of modules out there, not all of them offer the functionality required by Magento users, which is why we're dedicated to delivering tailor made solutions. Our Magento module development service includes wireframing, developing, testing and installation. Simply get in touch with your idea and we will get started on building your custom extension. We will build your custom Magento modules from scratch, making them completely unique to your Magento website.
Our Magento process
We endeavour to provide a quick turnaround time on all of our Magento development projects; however the length can vary depending on the complexity of the work. No matter whether you require help setting up your store or a custom Magento module, our process will start off by getting to know you and your business. This enables us to identify what you require from us and also gives you the opportunity to get answers to your questions. From there, we will begin the development process. With custom Magento themes and modules, this usually involves wireframing and on going testing to ensure your development is built to the highest standards. Throughout the process, we will continually check-in with you to make sure you are 100% happy with our progress so far. Once your Magento development is complete, we will install and troubleshoot it, so it's ready for you to use.
Bespoke eCommerce solutions
We are a Birmingham based eCommerce Agency providing bespoke solutions to Magento merchants. Whether you're building a new Magento website or looking to give your existing site a marketing boost, our team of specialists will help you make your store the best it can possibly be!
Meet the eCommerce Agency team
Find out about our eCommerce agency services today
If you are interested in giving your eCommerce website the kick-start it needs to succeed, get in touch with our Birmingham, West Midlands based agency today.