A Birmingham based Magento design agency you can trust
What our customers think
Value for money

90%

90%

Noticeable business improvements

90%

90%

Happy with timescales

90%

90%

Would you use us again?

90%

90%

Overall level of service

80%

80%
Full Service Digital Agency
Forward Thinking & Pro-Active
Experienced Magento Designers
Excellent Customer Support
Our Magento design services
Of course, Magento web design requires skills expertise and extensive knowledge and that's exactly what we offer. Our web designers have years of experience working with the Magento platform and know all of its ins and outs. With their help, you can strike the perfect balance between a great looking and well functioning website that will encourage visitors to buy your products.
We can make your ideas a reality. Simply let us know how you want your Magento ecommerce store to look and we'll endeavour to make it possible. If you're not sure what direction to take your site design in, our team of web designers will be more than happy to offer a helping hand. Working together, you can create a beautiful, eye-catching design that says all the right things about your business.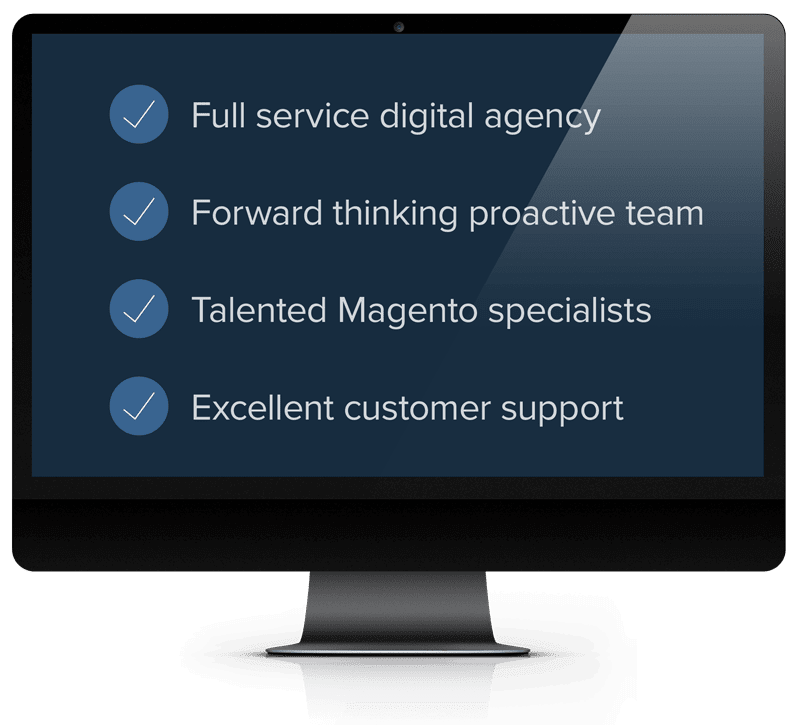 What makes us different
There are hundreds even thousands of other Magento web designers out there, so you're probably wondering what makes us so special? Our answer is that we simply care about our clients.
Unlike other companies out there, we take the time to get to know each and every client we work with. We believe this allows us to get a good idea of what they're looking for and incorporate the things we learn about their business into their web designs.
Something else that makes us different is the fact we offer a completely bespoke web design service. Work with us and you won't have to worry about being palmed off with a standard template that's been tweaked slightly. Our team of talented web designers will build your Magento design from scratch and make it completely unique to your business. The finished product will be a beautiful, unique and captivating ecommerce design that belongs to you and you only.
Bespoke Magento designs to suit all budgets
The beauty of offering bespoke Magento web designs is that we can tailor them to your budget. Whether you are looking to spend a little or a lot, our skilled Magento designers will create a web design perfectly in budget.
Over the years, we have worked with all sorts of ecommerce businesses and therefore have extensive experience creating a wide range of designs. If you'd like to see examples of our work, simply give us a call or drop us an email and we'll get some samples sent over.
Our design process
We will kick-start the design process by having a chat with you to learn about your business and find out what you're looking for in your new web design. This will be your opportunity to share your ideas, likes and dislikes with us. You can also ask any questions you have about our Magento design service.
From there, we will begin to develop wireframes for your Magento web design, so we can show you our first draft of the layout. One of the great things about working with our web designers is that they keep in contact throughout the entire process. You'll be able to see how they're getting on, review drafts of your design and request little changes you'd like to make before the final web design is ready.
We like to work closely with our clients, as we believe it's beneficial for both parties; for the client it gives them reassurance of the designer's progress and for the web designer, it provides the opportunity for them to deliver the right results for the client.
Once your Magento web design is finished, we'll install and test it ready for you to use. Whilst we're doing that, you can create a buzz around the launch of your brand new design so you'll have people ready and waiting to visit your site!
We only do responsive web design
Today it's not enough to have an aesthetically pleasing, well-functioning Magento store. If it's going to win over customers, it's going to need to be responsive. Our Magento designers are highly experienced in designing responsive Magento sites using best practice techniques. Choose us to create your Magento web design and have the peace of mind that it'll deliver a flawless viewing experience across all devices.
We'll go that extra mile for you.. and more
We are a Birmingham based eCommerce Agency providing bespoke solutions to Magento merchants. Whether you're building a new Magento website or looking to give your existing site a marketing boost, our team of specialists will help you make your store the best it can possibly be!
Meet the eCommerce Agency team
Start your Magento design project today
If you are interesting in having a bespoke Magento design tailored for you by one of our experienced designers, then get either give us a call or drop us an email and we will get back to you with a no obligation quote.