Birmingham based Magento services
Years of web design & development experience
Page 1 ranking keywords on Google, Yahoo or Bing
Customers reported noticeable business improvements
Customers would use us again
What our customers think
When asked to rate us 1-10 for each of the below, see what our customers thought:
Noticeable business improvements

90%

90%

Happy with timescales

90%

90%

Overall level of service

80%

80%

Value for money

90%

90%

Would you use us again?

90%

90%
Full Service Digital Agency
We offer the full service, with a team of creatives, developers and digital marketers to kick-start your online presence using a wide range of expertise and marketing techniques from SEO to paid advertising and social media marketing.
Forward Thinking & Pro-Active
Being pro-active and forward-thinking is in our nature. We're constantly learning and ensuring our knowledge is up-to-date as well as challenging clients to push boundaries, consider different options and keep ahead of the competition.
Specialist Magento Services
Our team are capable of extending your ecommerce store to the highest standards. With a great understanding of Magento architecture, third-party applications, API integrations, design and marketing; we are the very best people to trust with your website.
Excellent Customer Support
We understand that it takes more than great technical solutions to impress clients, which is why we work hard to offer an excellent customer service and give you peace of mind that we'll always have your best interests at heart.
Our Magento Services
Since establishing our business in 2008, we have grown to become one of the UK's leading Magento agencies. With a dedicated team made up of experienced web designers, developers and marketing experts, we are able to provide all the services businesses need to succeed. Our experiences over the years have taught us that clients are looking for much more than great technical solutions for their Magento websites. They want to work with a Magento partner offering excellent customer service – someone that will go the extra mile to meet their needs. This is why we offer excellent Magento solutions and outstanding customer service to match.
Something else that makes our Magento agency different is our bespoke approach to design, development and marketing. We don't believe in one-size-fits-all solutions and instead choose to tailor our services to meet the needs of individual clients. Use our Magento services and have the peace of mind that you will only ever pay for what you actually need and use. We are your one-stop-shop for all Magento services.
See below for a quick overview of our offerings: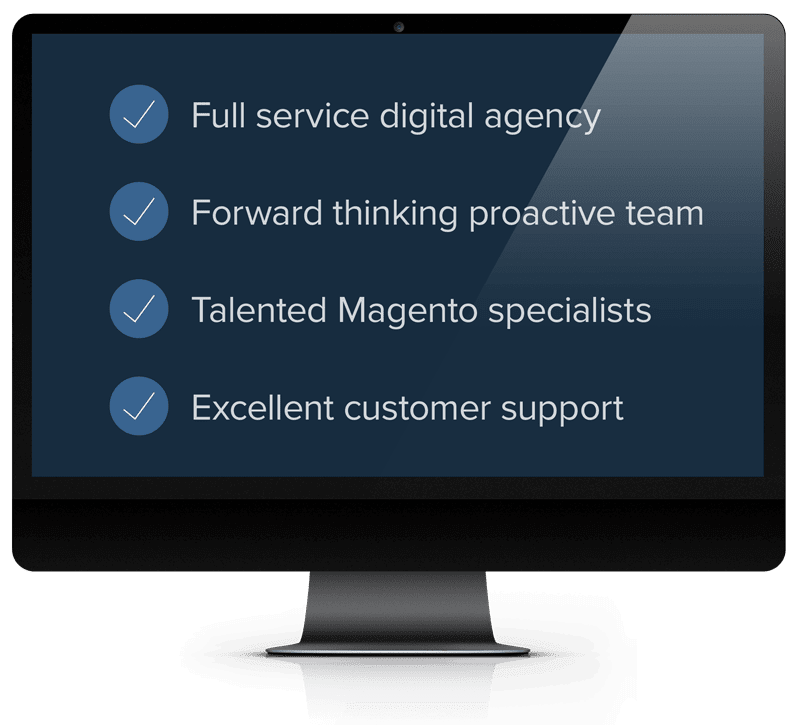 Megento design
Attract customers and give them the right impression of your ecommerce business with a striking Magento design. Our team of experienced Magento designers will work on the front end of your store, customising it to offer a completely unique look.
We will incorporate your business branding into your web design and give your Magento store a professional finish. If you think your ecommerce branding could do with an overhaul, simply let our designers know and we'll help you come up with something fresh, new and exciting.
In recent years responsive web design has become more and more prominent and it is something that we recommend all clients investing in. By using our responsive web design services for Magento, you can have the peace of mind that your store will provide an excellent viewing experience across all devices from PC to smartphone.
Our Magento design process is fairly straightforward. We start with having a discussion with you to get to know more about your business and then take it from there. From wireframing your design to installation, we will keep in close contact with you to ensure you are 100% happy with how your Magento site is looking. Any tweaks you require will be fulfilled; our aim is to leave you feeling over the moon with your new web design.
See our Magento design service page to find out what we have to offer or call us for a no obligation quote!
Megento marketing
Once you've got an attractive, well-functioning Magento website under your belt, you're going to want to tell the world about it! This is something our team of skilled Magento marketers can help you with. Using a wide range of techniques including social media marketing, SEO, email marketing and PR, our Magento marketers will spread the word about your store and ensure everyone's talking about it for the right reasons.
If you think your site could do with a marketing boost, visit our Magento marketing service page and get in touch with our experts today!
Megento development
We understand it takes more than just a great looking ecommerce site to turn people into paying customers. This is why we employ experienced Magento developers to enhance the functionality of your web store. Whether you require a custom module (plugin) or a bespoke integration, our Magento developers will carry out the necessary work to the highest standards. They will help you get the most out of using the Magento platform and show you all the possibilities for extension.
Extending your Magento web store and enhancing its functionality will ensure it provides customers with the optimum user experience. The better user experience you offer, the more likely customers are to buy your products and return to shop your store in the future.
We can also carry out third party API integrations to extend the back end of your Magento store. By integrating your website with things like CRM software, payment gateways and email marketing, you can make it easier to manage your business operations effectively.
Take your Magento store to the next level by investing in custom developments.
See our Magento development service page for more info or call our team to discuss your ideas.
Bespoke Magento services at competitive prices
Your search for a professional and reliable Magento partner ends here. We provide bespoke Magento services at prices that are hard to beat. To find out more about what we have to offer, visit our dedicated service pages or give us a call to speak to a member of our team.
We'll go the extra mile for you... and more!
We are a Birmingham based eCommerce Agency providing bespoke solutions to Magento merchants. Whether you're building a new Magento website or looking to give your existing site a marketing boost, our team of specialists will help you make your store the best it can possibly be!
Meet the eCommerce Agency team
Find out about our eCommerce agency services today
If you are interested in giving your eCommerce website the kick-start it needs to succeed, get in touch with our Birmingham, West Midlands based agency today.