Magento 1 to 2 Migration & Upgrade Service
Years of web design & development experience
Page 1 ranking keywords on Google, Yahoo or Bing
Customers reported noticeable business improvements
Customers would use us again
What our customers think
When asked to rate us 1-10 for each of the below, see what our customers thought:
Noticeable business improvements

90%

90%

Happy with timescales

90%

90%

Overall level of service

80%

80%

Value for money

90%

90%

Would you use us again?

90%

90%
Full Service Digital Agency
We offer the full service, with a team of creatives, developers and digital marketers to kick-start your online presence using a wide range of expertise and marketing techniques from SEO to paid advertising and social media marketing.
Forward Thinking & Pro-Active
Being pro-active and forward-thinking is in our nature. We're constantly learning and ensuring our knowledge is up-to-date as well as challenging clients to push boundaries, consider different options and keep ahead of the competition.
Specialist Magento Services
Our team are capable of extending your ecommerce store to the highest standards. With a great understanding of Magento architecture, third-party applications, API integrations, design and marketing; we are the very best people to trust with your website.
Excellent Customer Support
We understand that it takes more than great technical solutions to impress clients, which is why we work hard to offer an excellent customer service and give you peace of mind that we'll always have your best interests at heart.
What We Offer
Customers who come to us looking to migrate to Magento 2 can trust our agency to work tirelessly to deliver the best outcome. Our team is multi-faceted and full of experienced individuals who can handle almost any task, from the technical tinkering involved in converting a site to this new platform to the promotional pushes that will help it gain traction once it is re-launched.
Arguably the most persuasive reason to let us revitalise your website in this way, aside from the ticking clock on gen 1 Magento support, is our tailored development packages. Rather than relying on a cookie cutter approach, you can tell us precisely what you require and we can adapt our service to suit.
Because we are a full service agency, you can also bundle in other services to get everything you need to enhance your site's performance and grow your brand's impact in the digital marketplace.
We offer several attractive service options, including: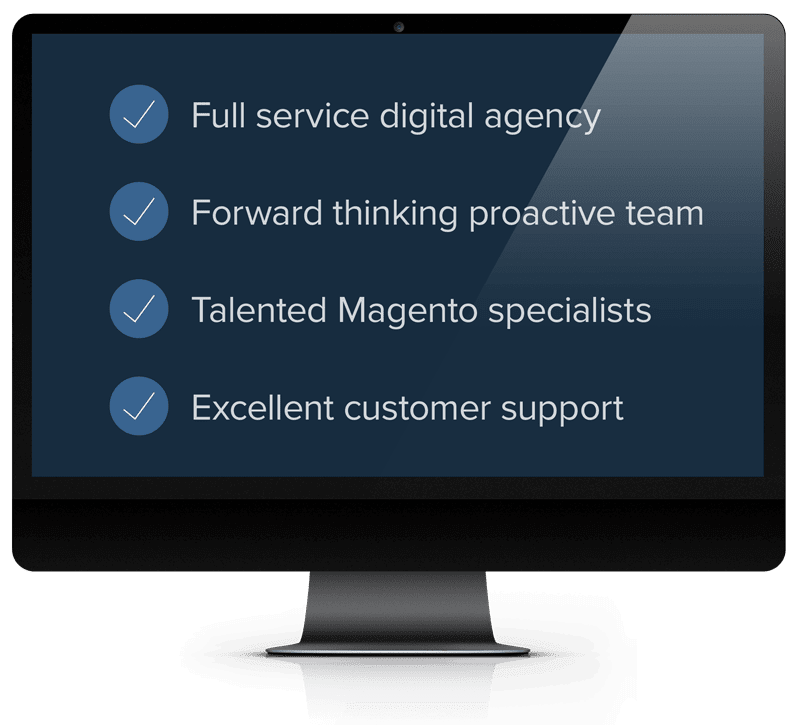 Magento 1 to Magento 2 Migration
The arrival of Magento 2 is much more than just a minor change to the existing platform; indeed it is a total replacement of the first iteration of this widely used eCommerce solution. Because of this, there is a lot of work involved in migrating a site to take advantage of all that it has to offer.
If you do not have the in-house resources to take care of this, working with us to make sure the migration can occur in a slick, effective way makes a lot of sense. We have the specialist skills to not only make the migration painless, but actively ensure that your move to Magento 2 is beneficial for years to come.
If you have any questions about our Magento 1 to 2 migration services or want to get a quick quote, please get in touch and we will explain everything in as much detail as you need.
Imaginative Marketing
With a well designed Magento 2 website that is worth shouting about, you will need to make sure that it gets the attention it deserves.
Our agency has all the digital marketing solutions to raise the profile of your shiny new site and draw in visitors that will value what it has to offer.
We are well versed in the world of search engine optimisation and email marketing, two areas which have long been essential to eCommerce success and remain relevant today. We are also experts in newer arenas, such as social media marketing, meaning you can relax safe in the knowledge that all of the effort involved in the Magento 2 migration was worthwhile.
With our support you will be about to mount marketing campaigns and manage discussions surrounding your brand so that no opportunity is overlooked and no customer question is left unanswered. Head to our Magento marketing service page to learn more.
Wonderful Web Design
If you are migrating to Magento 2 then it could be the ideal opportunity to re-evaluate the way your site looks and functions. This will help you to keep current customers loyal while also making a good impression for newcomers who find your site after the upgrade.
Work with us and our web design team will rustle up a site that is not just technologically at the bleeding edge of the industry but also easy on the eye and imbued with the branding cues that matter most to your business. Whether you want a minor visual refresh or a complete overhaul of your site's aesthetics, our design services will help you achieve your ambitions.
We also make the effort to ensure that you are engaged throughout. From discussing what you need and delving into the aspects of your business that will define the new site to keeping you updated as the design process moves forwards, you can trust us to make this feel like a collaborative, empowering experience.
Unrivalled Development
Upping sticks and transforming your Magento 1 site into a Magento 2 eCommerce hub is about more than just migrating existing services and assets over. Thanks to the flexible development packages we offer, you can augment you site in ways you never thought possible before.
Add new functions with plug-ins and third party APIs, ameliorate the CX with the latest tools and squeeze more value from every interaction with a modern CRM solution. All this and much more can be provided by our team, if you request it.
Investing in Magento development is not just about grabbing the attention of new visitors. You also need to think about how to turn one-off purchases into returning customers. Our team can give you the services and support you require to boost conversion rates and secure sales for a brighter future.
Whether you have a well-formed idea of what you want from Magento development, or you are hoping for all-encompassing advice and guidance, get in touch with us.
Get in touch for advice on Magento 2 migration
Now that you know about the migration services we offer for eCommerce sites that are ready to make the leap to Magento 2, contact our team via email or phone to get extra information or request a no-obligation quote today.
Meet the eCommerce Agency team
Find out about our eCommerce agency services today
If you are interested in giving your eCommerce website the kick-start it needs to succeed, get in touch with our Birmingham, West Midlands based agency today.