Leading Magento 2 Developers, Designers & Support Services
Years of web design & development experience
Page 1 ranking keywords on Google, Yahoo or Bing
Customers reported noticeable business improvements
Customers would use us again
What our customers think
When asked to rate us 1-10 for each of the below, see what our customers thought:
Noticeable business improvements

90%

90%

Happy with timescales

90%

90%

Overall level of service

80%

80%

Value for money

90%

90%

Would you use us again?

90%

90%
Full Service Digital Agency
We offer the full service, with a team of creatives, developers and digital marketers to kick-start your online presence using a wide range of expertise and marketing techniques from SEO to paid advertising and social media marketing.
Forward Thinking & Pro-Active
Being pro-active and forward-thinking is in our nature. We're constantly learning and ensuring our knowledge is up-to-date as well as challenging clients to push boundaries, consider different options and keep ahead of the competition.
Specialist Magento Services
Our team are capable of extending your ecommerce store to the highest standards. With a great understanding of Magento architecture, third-party applications, API integrations, design and marketing; we are the very best people to trust with your website.
Excellent Customer Support
We understand that it takes more than great technical solutions to impress clients, which is why we work hard to offer an excellent customer service and give you peace of mind that we'll always have your best interests at heart.
Magento 2 web design and development
We have worked for more than a decade to establish our agency and in that time have created a cavalcade of cutting edge sites based on Magento support for our clients.
Now that Magento 1 is being put out to pasture, ducking out in June 2020, it is essential to prepare for this by converting your site to run on v2.
This is much more than a simple update; it requires a ground-up reimagining of the site to accommodate the entirely new underpinnings of this latest platform. This is why we can make a major difference, eliminating the hassle involved in migration.
We take customer service seriously, since this is just as important as technical prowess. You can count on our agency to deliver a great experience from day one.
We also aim to lead the way when it comes to the adaptability of our Magento 2 web design packages. You do not need to fit your needs into a pre-determined box; instead we can work with you to create a truly bespoke solution.
Our main services are as follows: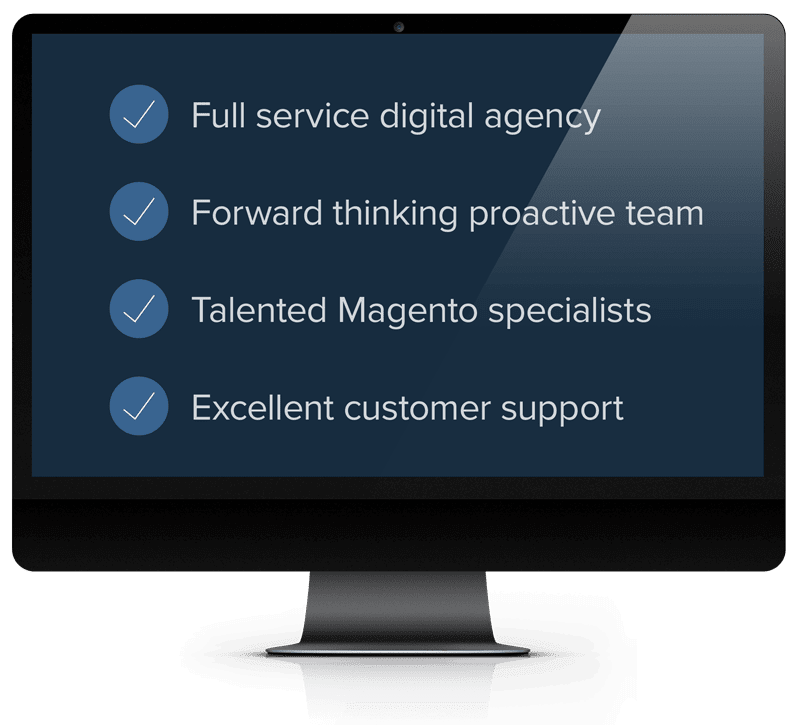 Head-Turning Web Design
Your website needs to look sharp and work well so that casual visitors can be converted into loyal customers, which is where good design pays dividends. We have a whole host of specialists standing by to make you a storefront that will wow the crowds and also stand out from the competition.
We can also ensure that your brand identity and personality is reflected in your site, which is important if you are aiming to build an audience and establish your business in a competitive marketplace.
Although we can handle all of the heavy lifting, we want to make sure that you are completely satisfied with the results of our design work, which is why we kick things off by discussing what you need. You will be kept in the loop throughout the process and we will make adjustments and optimisations so that the finished product meets and exceeds expectations.
Seriously Good Development
For an eCommerce site to succeed, it needs to blend form and function effectively. Even an eye-catching site will stumble at the first hurdle if it feels sluggish, unintuitive or inconsistent to visitors. Thankfully we have talented Magento 2 developers who are more than capable of making sure that the migration goes smoothly and dealing with all of the underlying technical aspects that will make your site run like clockwork.
We can even augment your older store with new features and functions that will capture the imaginations of contemporary customers and boost conversion rates as well as raising the chances of securing repeat business.
Our expertise extends to the integration of lots of different APIs which are compatible with Magento 2 and can be used to further expand its appeal. Whether you want to add the latest payment platform to give your customers more choice at the checkout, or you want a way to stay on top of marketing metrics and email campaigns, we can take this into account as part of your development package.
Mind-Blowing Marketing
Having a snazzy new Magento 2 eCommerce site is only half the battle, as next you'll have to make sure that the visitors start pouring in. If marketing is not your strong point, you can leave it to our specialists.
Our agency can help create and orchestrate a multi-pronged promotional push to provide your website with the exposure it needs. We can tackle lots of different aspects of digital marketing, from email campaigns and SEO to social media and traditional PR.
We have a dedicated page where you can find out more about our Magento marketing services, so click through to find out more. In the modern age it pays to take control of the conversation surrounding your business and brand, so with our assistance you can make pro-active choices and stay ahead of the curve. This will make a big difference as you make the leap to v2.
Tailor Made Shopping Sites
The sites we create, whether they are brand new or based on an earlier eCommerce outlet which is being migrated, are entirely bespoke and completely cost-effective.
We aim to set our prices at competitive levels to ensure you get great value for money without having to compromise on the quality of the end product.
The flexibility of our packages and the responsiveness of our customer services puts you in the driving seat. You will never feel that you are excluded from decisions that have a major impact on your site, which is a welcome reassurance to have.
If you still need convincing, check out the other service pages and see what we can do for you. Any business that is ready to see the true power of modern web development techniques and the latest eCommerce platforms be put into practice should get in touch with us.
Get in touch to learn about our Magento 2 services
When you are ready to overhaul your old Magento 1 website and convert it to harness the might of v2, give our team a call or send us an email. We can provide competitive quotes, without obligation, as well as answering any questions you have today.
Meet the eCommerce Agency team
Find out about our eCommerce agency services today
If you are interested in giving your eCommerce website the kick-start it needs to succeed, get in touch with our Birmingham, West Midlands based agency today.